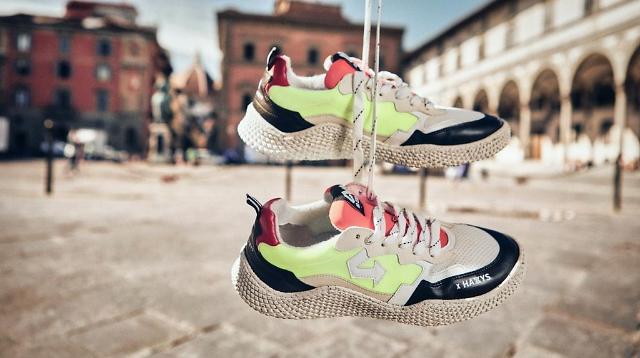 Hazzys launches vegan leather sneakers using apple skin
SEOUL – Hazzys, a casual brand of South Korean fashion retailer LF, has launched eco-friendly vegan leather sneakers made from plant materials. Hazzys will adopt environmentally friendly materials, including recycled materials, for all of its footwear products from 2023.
Vegan leather, often made from plant materials, is made from a plastic coated fabric that has a leathery texture. Vegan leather is preferred by animal lovers and environmentally conscious consumers who want to reduce the pollution generated in leather processing factories. However, the polyurethane and polyvinyl chloride used in vegan leather are not biodegradable.
Hazzys said in a statement on Oct. 5 that the company has launched vegan apple skin leather sneakers, adding that all shoes released from 2023 will be made with environmentally friendly materials. The apple skin sneakers were created in collaboration with Italian sneaker brand ID.EIGHT. In addition to the vegan leather made from apple skin, recycled polyester rubber, fabric and paper were used in the production of the insole and the outsole.
South Korean clothing manufacturers have focused on building eco-friendly brands as the demand for eco-friendly products grows. Seoul-based global clothing brand FILA announced in September 2021 the launch of eco-friendly footwear made with recycled materials, including recycled cork and biodegradable waterproof paper. Some models used up to 85% recycled material for the synthetic leather that covers the upper part. Packaging materials such as shoe boxes and product labels used 100% recycled paper.
Bottled water companies also market polyethylene terephthalate (PET) bottles without labels for easy recycling so consumers don't have to remove labels made from a thin sheet of plastic. K-pop sensation BTS also gave a motivational speech at the 76th United Nations General Assembly wearing "RE; CODE", a costume produced by Kolon FnC, a fashion and lifestyle arm of the South Korean fabric maker. Kolon Group, using recycled fabric in September 2021..
LF, which owns the clothing brands Daks, Lafuma, Maestro and Hazzys, was founded in 2007 by Koo Bon-keul, a grandson of the late LG group founder, Koo In-hwoi, after LG International separated its fashion activity.
© Aju Business Daily & www.ajunews.com Copyright: Any material on this site may not be reproduced, distributed, transmitted, displayed, published or broadcast without permission of Aju News Corporation.