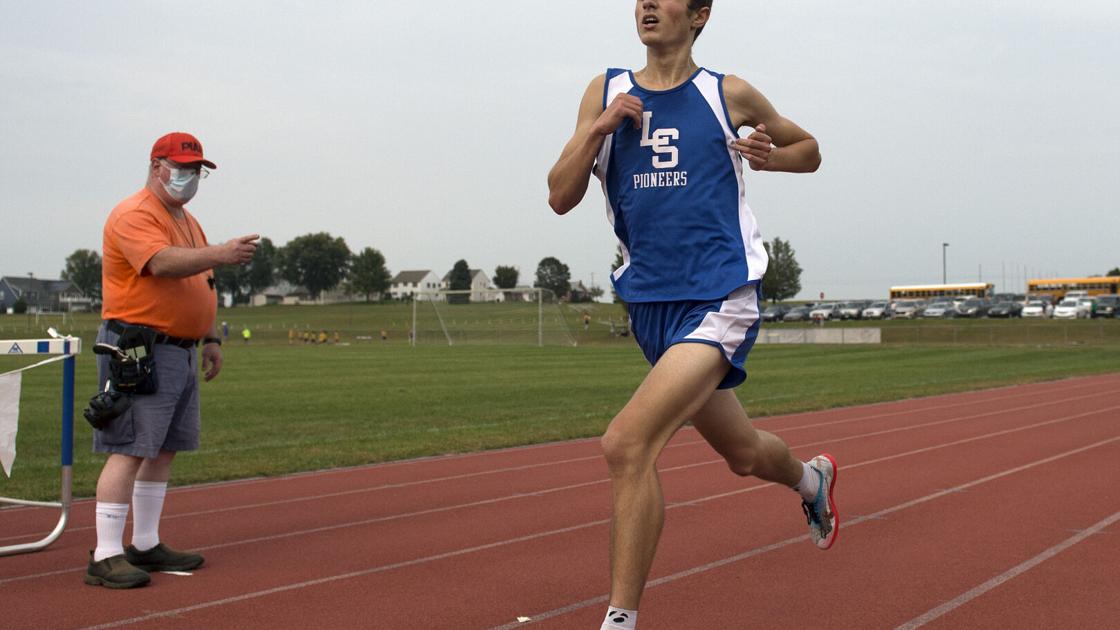 Lampeter-Strasburg runner Colin Whitaker discusses cross country, lucky charms, shoe collection, more [Q&A] | Cross Country High School
Lampeter-Strasburg runner Colin Whitaker exploded onto the Lancaster-Lebanon League cross-country scene last year as a freshman. Being a rookie caught up with him a bit in league championship competition, however, when he finished 13th. Whitaker bounced back to win a bronze medal at the 3-2A District Championship. Then came the PIAA Class 2A Championship meet at Hershey, where Whitaker collapsed twice in the final 100 yards, but eventually crossed the finish line, placing 12th overall.
He will likely be among the best LL runners this season and among a group of talented LSs who will defend his section two crown.
Heading into the 2021 campaign, Whitaker chatted with LNP | LancasterOnline at the end of training on Wednesday. This Q&A is below. This has been edited for brevity.
What got you started in running?
"My dad started me running in seventh grade with track. He bribed me to run away.
What were you doing until then?
"Football and basketball. Totally unrelated to running. But I was still doing something. Then I did a good run in seventh grade. So I went cross country in eighth grade.
What position have you played in football?
" Lineman ".
So you took part in cross country competitions in eighth and ninth grades. How have you evolved as a runner during these two years?
"In eighth grade, I was bad at rhythm. Extremely bad. I would start competitions much faster than my race pace. First year was better, but it still wasn't perfect. Since the last season on the track, I feel that I am improving.
Going from middle school to high school is a big leap. What were the challenges you encountered last season?
"I didn't have any invitations last year (due to COVID-19). It was a big deal because I went to the championship competition shocked because it happened so fast. It's also a big jump in distance, with an extra mile.
How would you describe yourself as a runner now?
"At each meeting, you have to leave quickly. But overall the pace is better. … I like to sit on the hills. Ride hard enough but not too much. Then in the descents it goes very quickly. … With probably about 1000 feet left, I kicked off.
What did summer training consist of?
"I did more than last year. Forty miles a week. Strength training two or three times a week.
Did you work part time during the summer?
"Yes. At the restaurant on Route 30. Bus tables. I worked three days a week, eight hours a day.
Let's go back to last year's state meeting. You collapsed several times in the stretch, but got up in the end. We did not have the opportunity to speak afterwards because you had a long convalescence lying on your back in the shade, your feet supported on a tree. What happened?
"It was cool all week. Then the day of the race was hotter than usual. It was also difficult because I didn't have all the ground with me. I got out well. At the two-mile mark, I began to feel it. Then I went up the hill well. Then the last 200 meters, the last 100 meters, I no longer felt my legs. It was like running through quicksand. … I was well hydrated. I was just really tired. I just pushed myself.
Let's go to class. What is your favorite class?
"Story."
Time for some fun questions. Are you superstitious?
"I have kept the same jersey since the eighth grade. I have been using it (race day) since. I've had it all the time. It's a lucky charm at this point.
What type of running shoes do you prefer and what size shoe are you?
"I'm a size 10. I probably have 30 pairs of running shoes in total. My favorite brand is Nike or Adidas.
Why 30 pairs of running shoes?
"I don't put enough kilometers in my shoes. Probably 20 pairs are still portable. New models come out that I love, and then I end up with too many shoes. At the moment I have some training shoes that I am waiting to use.
What are your parents doing for a living?
"My father is a police officer. My mother is a manager for LGH.
You are the youngest of three children. What have you learned from your older sisters?
"School is important. They always had better grades than me. I must follow in their footsteps.
What are your three favorite movies?
"My favorite movie is Saving Private Ryan. I love the Hunger Games series. Interstellar."
What are the LS boys' expectations in cross country this season?
"In the league, Hempfield looks good. But this second place, we can push for it. For District 3-2A, we should be able to take that home. For states, we can compete. We'll see how it goes.