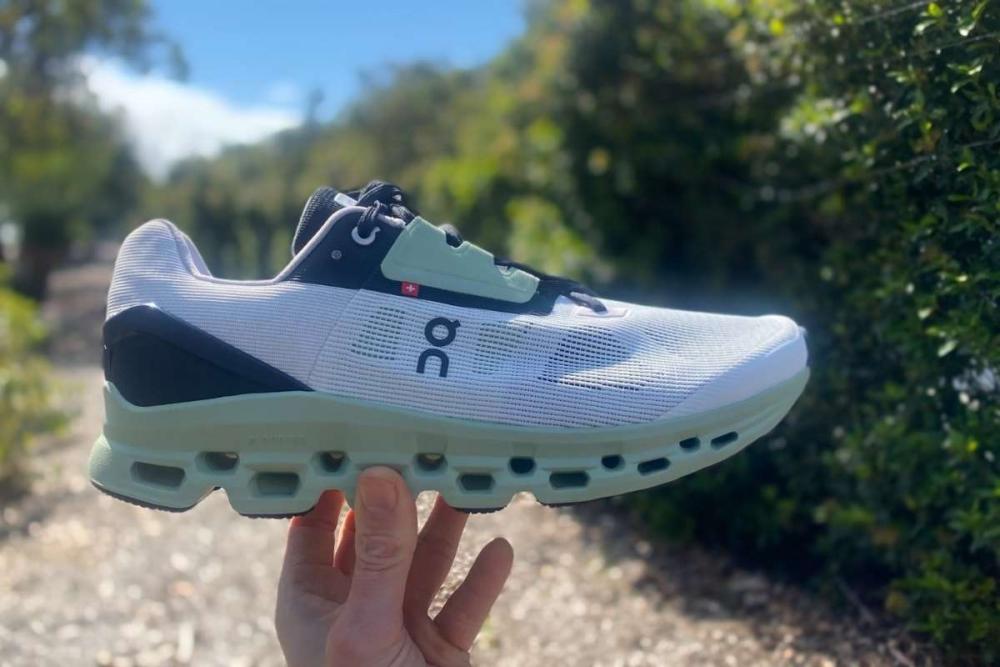 Running shoes reviews: ON CLOUDSTRATUS 2
On's shoe model collection is growing almost as fast as the company itself. And with On Cloudstratus, we have another cool shoe from On.
The On Cloudstratus is similar to the Cloudultra, but for roads and not trails. With plenty of cushioning, the Cloudstratus is On's maximalist road running shoe, designed for long miles with a firm, fast ride. This updated model is made from two layers of On's new Helion foam, which is really what sets the Cloudstratus apart from other ON shoes.
Runner's Tribe had the chance to put a pair to the test. Below is our opinion.
Type: Maximumist road shoe.
Cushioning: Maximum, the midsole foam is relatively firm, not an overtly soft run.
Superior: High quality mesh. Reinforced with overlays on the toe ends and a firm plastic heel counter for added structure.
Midsole: Helion Foam – two coats.
Midsole density: A firm ride.
Flexibility: Moderate.
Outsole: Rubber strategically placed under high traction areas.
Pile heights: 36mm heel, 28mm forefoot.
Publication date: 8mm.
Weight:

324 grams for the US men's size 11, 295 grams for the US men's size 9. See the comparison table below.

Heel width: Narrow.
Heel counter: Due to the plastic heel counter, very firm and built.
Sizing: True to size.
Width of the toe box: Narrow.
| | | | |
| --- | --- | --- | --- |
| Shoe (all sizes US 9 Men | Weight (grams) | Drop (MM) | Pile heights (heel / forefoot cushioning) |
| Hoka Clifton 8 | 252 grams | 5 mm | 37mm / 32mm |
| Nike Vomero | 281 grams | 10 mm | 27mm / 17mm |
| Nike Pegasus | 266 grams | 10 mm | 28mm / 18mm |
| Adidas Solar Boost | 301 grams | 10 mm | 28mm / 18mm |
| Asics Nimbus | 315 grams | 10 mm | 31mm / 21mm |
| New Balance 1080 | 283 grams | 8 mm | 30mm / 22mm |
| Mizuno Wave Rider | 289 grams | 12 mm | 32mm / 20mm |
| Brooks Glycerin | 309 grams | 10 mm | 32mm / 22mm |
| Brooks Ghost | 286 grams | 12 mm | 29mm / 17mm |
| ON Cloudstratus | 295 grams | 8 mm | 36mm / 28mm |
Cloudstratus vs. HOKA Clifton: Both are everyday road running shoes and both are categorized as maximalists. The Clifton is much lighter (see table above). But I would say it's fair to say that the Cloudstratus is much more durable, as its Helion foam is on another level compared to HOKA's obsolete EVA (in terms of durability). A good old-fashioned compromise between weight and durability.
Cloudstratus vs. Nike Pegasus: The Cloudstratus is very similar to the last Pegasus (38). With additional stack heights, both brands appeal to current industry trends. Nike's React foam is industry leading and On's Helion foam competes well. The Pegasus is certainly a smoother ride, but the Cloudstratus is noticeably more responsive. Again, a compromise.
Helion foam: Another shoe, another super foam. But at least with On's Helion Foam, there's some legitimate innovation going on.
Helion foam is very versatile in extreme temperatures. It goes on to say that "the cushioning remains top notch, no matter how cold or hot it is outside. What this means in English 😉 is that on unbelievably hot days the foam doesn't get soft and sponge-like (like what can happen with many old school or new age EVA rubber based foams). And in very cold weather, the foam does not freeze and become rock hard (again like what happens with old school or new age EVA rubber based foams).
Two layers of Helion foam: Stacking two layers of Helion foam was a great initiative from On. In an industry where foam is more and more fashionable, we have given the market what it dreams of. Due to the speed board that sits above the midsole and under the sole, the extra layer of foam creates a somewhat crisp running shoe-like feel, but in a relatively flexible daily trainer.
Hard heel counter: There is a super hard plastic heel counter superimposed on the upper, in order to create additional structure and support for the shoe. This is great for those who like a very built and hard heel counter, but of course not so great for those who prefer more flexibility in this area.
CLOUDSTRATUS retails for $ 259.95 from the Australian ON Running store. That's a pretty standard price these days for a high-end shoe. He's a legitimate competitor to some of the more popular, heavily padded daily trainers like the Clifton, and he deserves his place alongside the big dogs.
Disclaimer: Runner's Tribe received a free pair of CLOUDSTRATUS.